MANAGING COVID-19 – TALENT MANAGEMENT QUESTIONS & ANSWERS
Nonprofit HR has received many questions from social impact organizations
Find, Develop & Keep the Best Talent for Your Social Enterprise
At Social Impact Talent Advisors (SITA), we bring social enterprises together with the talent they need to scale, transform and disrupt economies. Our team of experts know what it takes to responsibly, sustainably and transformatively drive results. Partner with us and find, develop and keep the best talent.
SEARCH
At SITA by Nonprofit HR, we understand that a Search process is not just a recruitment activity, but an opportunity to transform your organization and impact of your mission for years to come. Our approach to Search is collaborative and focused. Our deep knowledge of the social sector gives your social enterprise access to a roster of successful professional and executive talent like no other search firm in the nation.
Ways we can partner with your social enterprise:
Executive Search – Traditional, Expedited & Interim
Professional Search
Recruitment Outsourcing
Interim Leadership
Contact us for your search needs! 202.660.1450 or email us at info@gosita.com.
What the social enterprise community has to say about working with us!
"It's a very much needed skills series especially for social impact ventures. It rolled in nicely right after our training on trust, vulnerability, and belonging to set the tone for the program, so keep this order for orientation."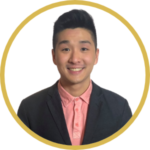 Wesley Ma
Founder and CEO, HealthOpX
Strategy & Advisory
Customized scopes of work to help you meet your organizational objectives.
Whether you want to revamp your approach to performance management, are seeking to improve your organization's culture and engagement strategy, or assess the impact of how your people function, SITA by Nonprofit HR is the partner you need to position your organization to achieve greater impact. We can help your social enterprise with the following types of project-based engagements and more:
HR Audits & Assessment
Performance Management
Workplace Culture & Employee Engagement
Employee Training
Advisory on Demand Thought Partnership
Let SITA thought partner with your organization to strengthen your talent management practices. Our focus on mission-driven organizations is a perfect fit for your social enterprise's vision, values and culture! Contact us to discuss your unique HR strategy and advisory needs.
What the social enterprise community has to say about working with us!
"Very insightful session. Most of the information will be helpful to our venture in the near future as we grow our early stage social enterprise."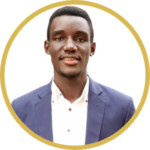 Dennis Ssekimpi
Co-Founder, Hya Bioplastics
HR OUTSOURCING
Maximize your organization's most important asset: Your people.
SITA by Nonprofit HR's outsourcing solutions enable social enterprises to realize better results by focusing on their people and workplace culture. Our unique combination of deep functional expertise, sector-specific experience,and thoughtful approach to HR provide an invaluable partnership to your organization.
Our service models are comprehensive, flexible and can accommodate nonprofits and social enterprises of all sizes and unique needs. Our outsourcing solutions have been deployed to clients across the country ranging from five to 350 employees. We support clients on-site (in select cities), virtually or through a combination of on-and off-site support.
Interim Outsourcing
Comprehensive General (virtual and onsite) Outsourcing
Specialty Outsourcing (i.e. strategy, recruitment, benefits)
SITA's Outsourcing practice provides your social enterprise all the benefits of an in-house HR team, but with less expense and deeper expertise. Contact us to discuss your specific talent management needs.
TOTAL REWARDS
Because total rewards is greater than compensation.
At SITA by Nonprofit HR, we believe that social enterprise's Total Rewards program should be reflective of your culture and business strategy; including programs that encompass the whole employee experience for benefits, compensation, wellness (mind, body and financial), flexible work-life programs, service and performance recognition, learning and development and career advancement opportunities.
We'll work with you to customize work-life programs that represent the diverse needs of your employees. Plus, we'll walk you through contemporary wellness programs to support financial lifestyle, as well as health education and awareness. Here are some areas we can thought partner with your team:
Compensation Benchmarking & Program Design
Pay Equity Analyses
Benefits Assessments & Administration
HR Technology
SITA's Total Rewards team won't merely focus on financials, we will also look at creating programs that engage your staff, connect them to your organization and allow them to grow their career while managing their lives outside of work. Contact us to initiate a conversation.
What the social enterprise community has to say about working with us!
"A good and mind opening session. Rated 5/5 for helpfulness and 5/5 for effectiveness of the training."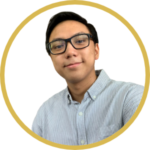 Gio Calma
Co-Founder, BCRemit
EDIJ
Equity, Diversity, Inclusion & Justice
EDIJ is personal to your organization's workforce and mission and it is also personal to us.
At SITA by Nonprofit HR, our EDIJ and talent management leaders provide expert-level thought partnership aimed at helping you challenge your thinking, change your paradigms, assumptions and actions, and provoke you to innovate in the area of diversity, equity and inclusion in a way that recognizes the unique internal and external factors impacting your organization.
Our primary focus: To listen and to understand your needs. Doing so enables us to design solutions that will meet your social enterprise's unique environment in a way that is grounded in best practice and EDIJ-centered principles. Here are some areas we can thought partner with your team to begin or maximize your EDIJ efforts.
Equity Assessments & Implementation Support
EDIJ Centered-Training
Cultural Transformation
Leadership Development
Interim Chief Equity Officer
Advisory On Demand Thought Partnership
Organizational Development
Reach out to SITA by Nonprofit HR today and let us help you create a customized experience that addresses what's important to you. Contact us to initiate a conversation.
What the social enterprise community has to say about working with us!
"I thought Samantha was very knowledgeable, personable and quite helpful. She had answers to my questions and knew exactly where to navigate me in areas that weren't necessarily her domain. I really liked connecting with her and found my 30 minutes quite beneficial to me. Samantha is awesome and was just so helpful!"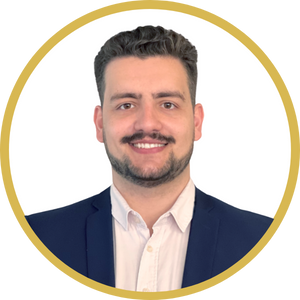 Marcelo Homrich
Program Coordinator, Halcyon Incubator
ABOUT
Social Impact Talent Advisors is a Nonprofit HR collaborative.
Our mission is to bring social enterprises together with the people they need to scale, transform and disrupt economies. Our team of experts know what it takes to responsibly, sustainably and transformatively drive results. We help you find, develop and keep the best talent.
SITA's Approach and Values
Our corporate shared values influence how we approach talent management. We empower our team to think, act and be:
Extraordinary
Inclusive
Agile
Authentic
Accountable
Impactful
Innovative
Learn more about our service offerings.
Check out the SITA community in action via The Switch, a podcast by Nonprofit HR! 
This episode features a SITA exclusive interview with Nell Edgington, diving into her new book "Reinventing Social change", as well as her views and insights on the social sector as whole. She shares her experiences working with nonprofits and social enterprises while providing some tips, tricks, and advice for social leaders moving forward.
Listen in on this informational interview with Chief Social Impact Officer, Patty Hampton!
DEFINITION OF A SOCIAL ENTERPRISE
As defined by the Social Enterprise Alliance, a social enterprise "is an organization created for impact. It uses a sustainable and earned income business model with a governing structure focused on stated social or environmental goals. It invests a significant portion of its revenue, profit or assets into expanding this stated mission."
HOW WE WORK
Nonprofit HR's Commitment to Diversity, Equity, Inclusion & Belonging
Nonprofit HR is committed to fostering and maintaining a work environment where diversity, equity and inclusion (DEI) are fully integrated into everything we do for the benefit of our employees and the clients that we serve. To fully realize our goal, we prioritize our understanding of the complexities of DEI within our workforce to inform our approach to talent management. We believe that this guides how we do our work, advise our clients to operationalize DEI and position our content and educational opportunities to help strengthen the talent management capacity of the social impact sector.
We believe that diversity is the presence and celebration of difference that enriches our workplace, including identity-focused characteristics, such as race, gender, disability or age. We also believe that equity is the presence of and commitment to fair treatment, access and opportunity for all, where individuals are not at a disadvantage because of their identities. And we believe that inclusion is how we demonstrate our commitment to diversity and equity and is at the center of our efforts to build an intentional culture that fosters feelings of belonging and honors the differences of our colleagues, clients, partners and vendors. Inclusion ensures that individuals with different identities are valued, leveraged and welcome within our workplace.
Our commitment to DEI does not mean that we must agree on everything, nor does it mean that those who do not agree cannot be part of a community. What our commitment does mean is that our differences drive our need to be inclusive, respectful of each other and that we take seriously our professional, ethical and legal responsibilities to honor each other's right to be different.
SITA ADVISORS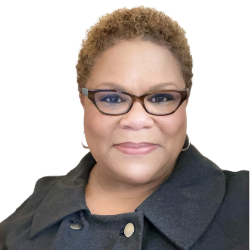 Patricia "Patty" Hampton
Chief Social Impact Officer (CSIO) & Managing Partner
---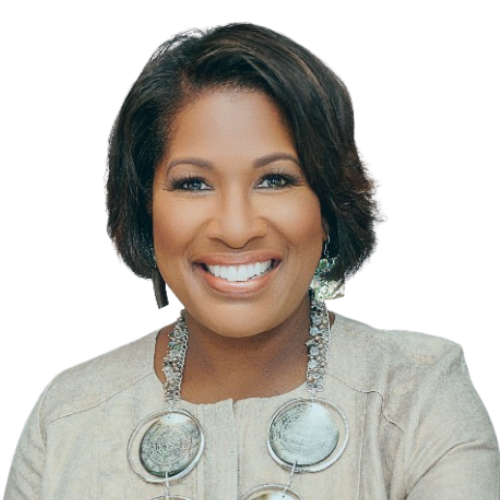 Lisa Brown Alexander
CEO, Nonprofit HR & Social Impact Talent Strategist (SITA)
---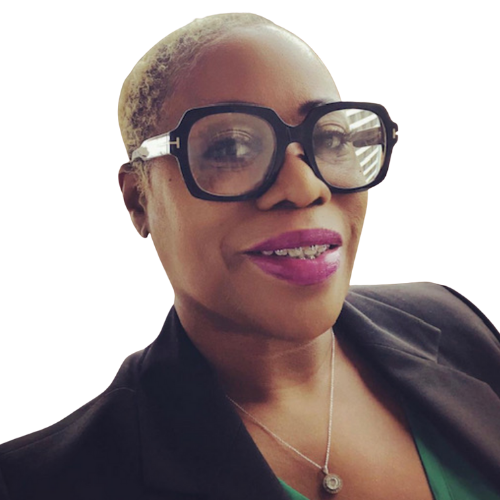 Atokatha Ashmond Brew, MBA
Managing Director, Marketing & Strategic Communication
---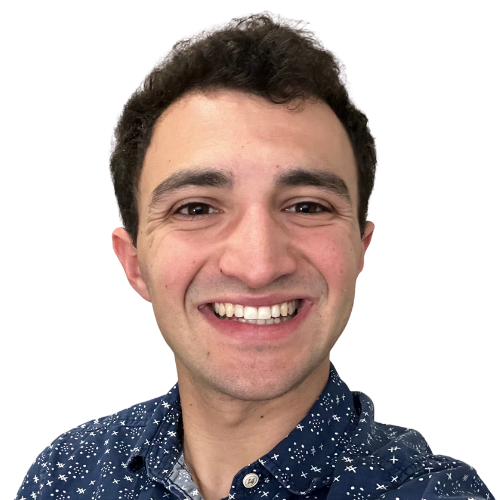 Zachary Hankin
Manager, Client Experience
---
Learn more about Patty Hampton and SITA on the HR Bytes Podcast!
Tune in to episode 25 of HR Bytes to hear the conversation between Jay Polaki, Founder and CEO of HR Geckos and Patty Hampton, Managing Partner & Chief Social Impact Officer of Nonprofit HR. Patty is a passionate and committed leadership and talent management champion for social enterprises.
UPCOMING SITA EVENTS!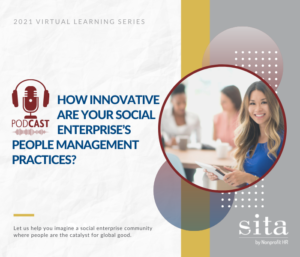 CONTACT
National Headquarters:
1441 L Street NW, Suite 620
Washington, DC 20005
202.660.1450